What to know before visiting Burg Eltz Castle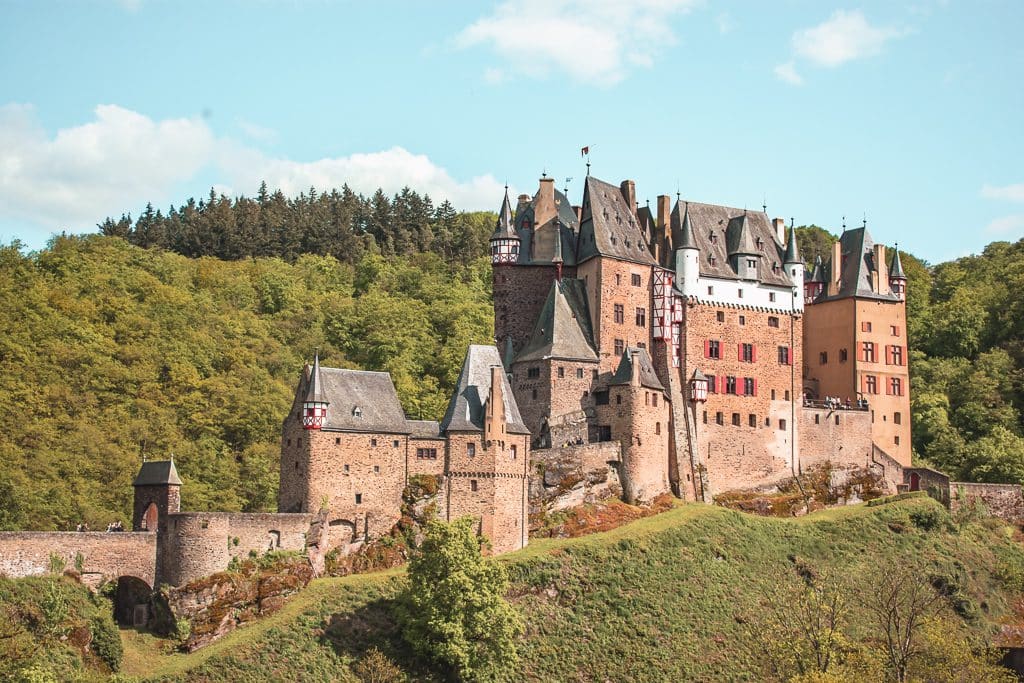 In May, I went on a girls trip to the beautiful Moselle Valley in Germany. The Moselle Valley is part of the Eifel, a region that boasts vineyard-filled landscapes, cute little towns and many magical castles. Burg Eltz is by far the most popular one, appearing on the feeds of many travel instagrammers.
I have to be very honest, seeing Burg Eltz on photos, it never looked that pretty to me. Maybe because I just have a soft spot for pink castles, who knows. But since I was already in the region, I decided to go see what all the fuzz was about. Spoiler: I totally loved it! Burg Eltz is just so much more majestic than pictures could ever capture. So yes, I really understand now why it is so popular.
With that being said, Burg Eltz is not the most practical castle to visit. You could say that I went there quite unprepared. So, learn from my mistakes and keep the following things in mind to make the best out of your visit to Burg Eltz!
Bring cash!
Number one rookie mistake that I made: I didn't have cash with me. What I did have was an empty stomach. Assuming that I could pay with card at the restaurant was wrong, because they only accept card payments above €20. Plus, at that moment all the food they had was cake. Yup, I would have had to buy alotta cake to reach those €20. Luckily, I had some little snacks in my backpack so I was okay for that moment. But if you're really hungry for lunch at Burg Eltz, then please bring cash.
Same goes for buying souvenirs and tickets for a guided tour to see the inside of the castle. Unless you're paying €20 or more, you'll need cash.
You must walk 20 minutes
Once you arrive at the visiting address, then you have two options to reach Burg Eltz: you either walk 20 minutes downhill (and a little longer up again) or you take a paid shuttle bus. Again, you need cash for that.
If you don't want or can't pay for the bus, then the walk is very doable though and it offers you some incredible forest views. However, if you're a bit in a hurry, then I can imagine that taking the shuttle bus is a lot more convenient. Whether you decide to walk or take the shuttle bus, if you travel to Burg Eltz by car like I did, then it's an additional €2 for parking.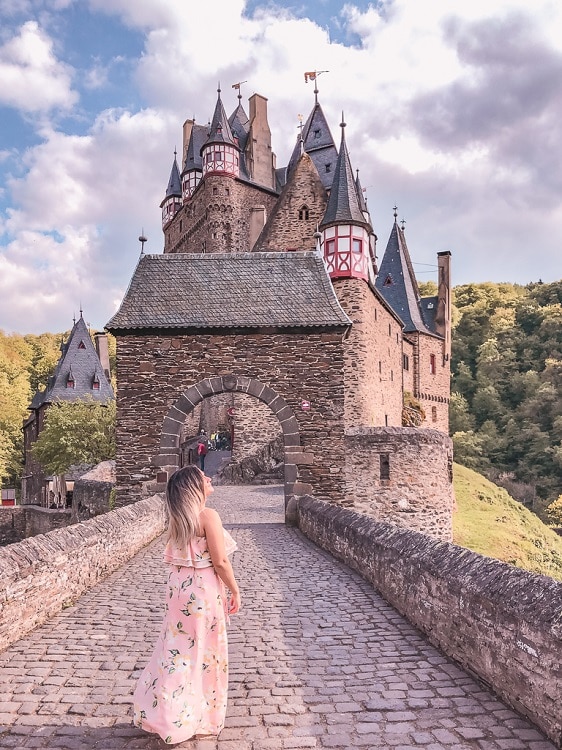 The castle is closed during winter season
Good to know if you're visiting Burg Eltz between early November and late March: it is not possible to see the inside of the castle and the restaurant is closed as well. You can however still reach the castle and take photos from the outside.
Drones are not allowed
This doesn't personally effect me as I don't own a drone, but I saw signs everywhere stating that this is forbidden. So I'd figure you'll be very disappointed to take your drone to Burg Eltz and then not be able to use it. Now you know!
Pets are not allowed indoors
You're more than welcome to bring your pet to Burg Eltz and the surrounding Eltz forest, but keep in mind that pets are not allowed indoors in case you want to see the inside.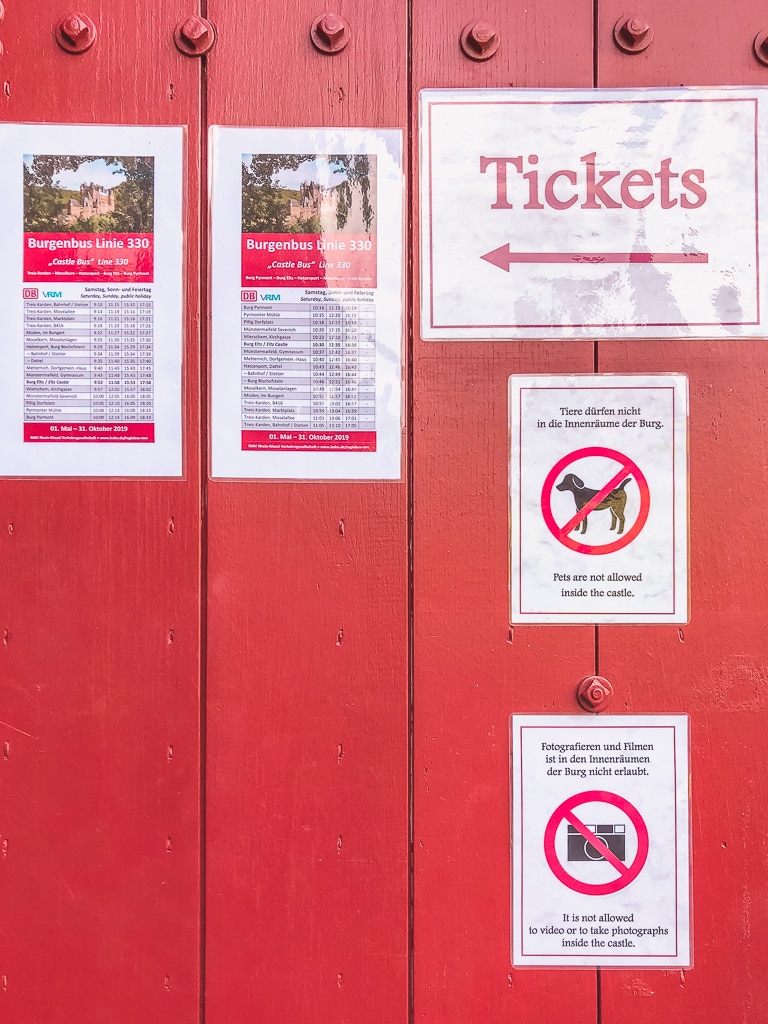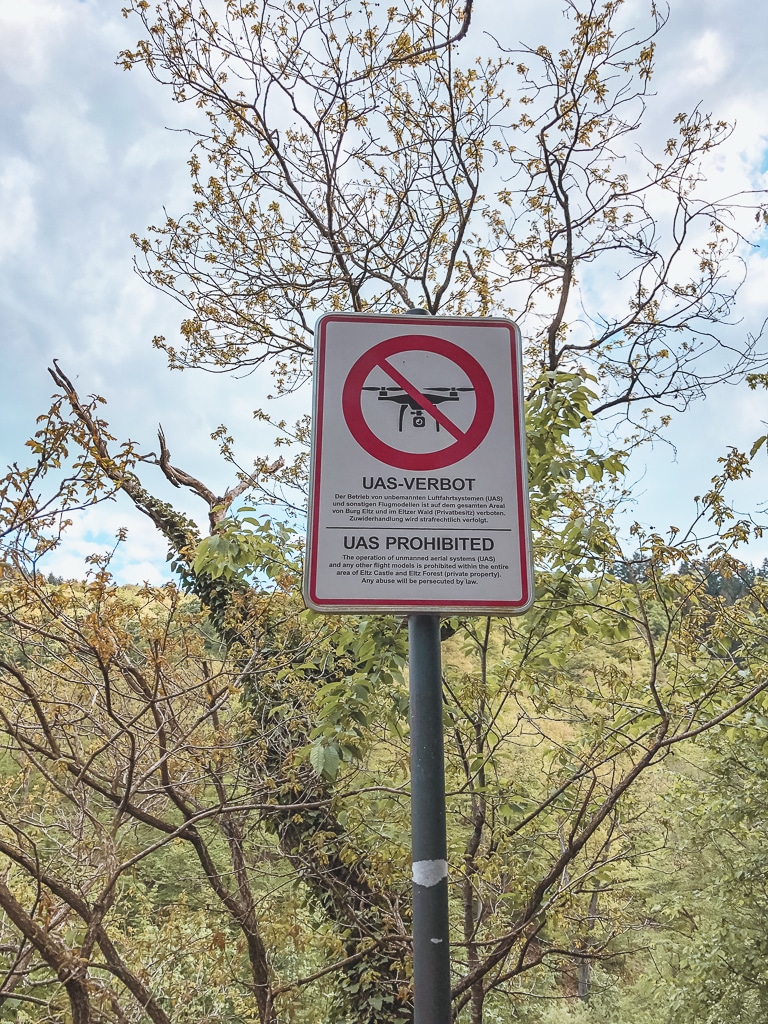 Prices, opening hours and address
The address of Burg Eltz is Burg Eltz 1, 56294 Wierschem, Germany. Walking and accessing the castle is free, if you wish to see the treasury/follow a guided tour then the prices vary from €10 for regular to €6.50 for students and disables visitors. Group discount is possible.
Visiting the treasury and/or follow a guided tour is possible between 9:30 AM and 5:30 PM. The castles closes at 6 PM.
To plan your trip accordingly to your method of transportation, check out the official website of Burg Eltz.
Where to stay when visiting Burg Eltz
I stayed in a lovely holiday home of Fewo Cochem in Ediger-Ellen, next to Cochem. What I liked about this accommodation is that the location is quiet and has everything you need. Supermarket and restaurants are just around the corner, and the holiday home itself features a sauna for total relaxation.
If you want to leave the house for some sightseeing, then Cochem is just a few minutes away by car. Located right at the river banks of the Moselle, boasting a cute historic center and a castle of its own, Cochem offers plenty of photo opportunities and is definitely a must see when visiting the Eifel region.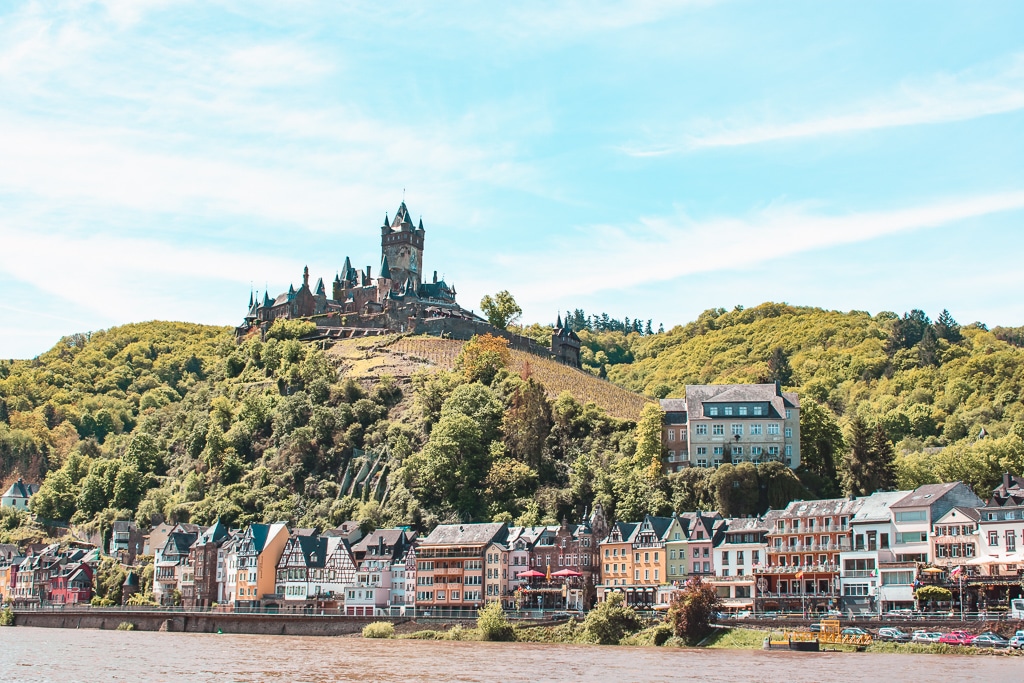 Do you have any more questions about Burg Eltz? Feel free to ask in the comments or send me a message!
Ayo! AR x