The best photo spots in Ljubljana for your Instagram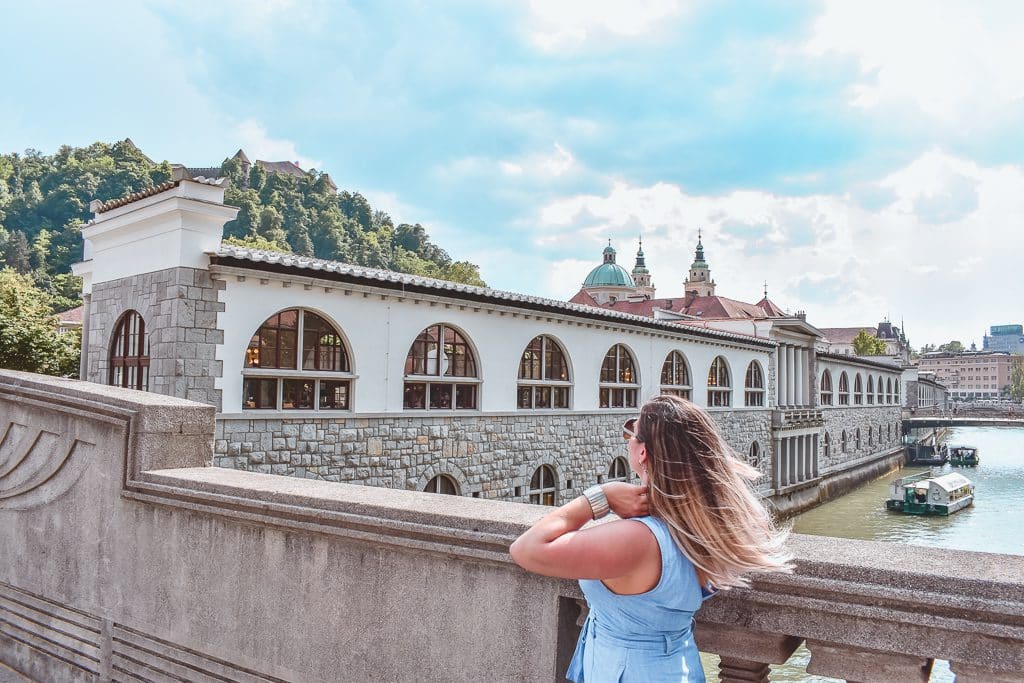 If Vienna and Venice had a love baby, it would be Ljubljana.
That's right, the capital of Slovenia is a city where Central European charm meets the relaxed Mediterranean vibe. No wonder that Ljubljana means 'the beloved'.
It was a balmy Wednesday evening when I saw Ljubljana for the very first time. The sun was about to go down in an hour, kissing the city with its golden light. The terraces alongside the Ljubljanica river were full of people chatting and enjoying a meal, and as I was passing by them, I felt an immediate attraction to all the pretty pastel buildings that surround the river embankments. Art Noveau and Baroque are a big thing in Ljubljana, as I found out later. Mostly thanks to a certain mister Jože Plečnik, who studied architecture in, you guessed it, Vienna.
He crafted his learnings into his own personal style, and (re)built many landmarks in his birth city Ljubljana after his return to it. The legacy of Plečnik is visible all over Ljubljana, leaving behind a very photogenic city for all of us to love (and capture with our cameras of course!). Think of fancy bridges, romantic squares, impressive buildings and castle views from all over town.
Now, before I tell you where to find all these pretty photo spots, I want to share an additional tip with you. I discovered most of these sights by joining the Ljubljana Free Tour, which I highly recommend. In two hours, you'll learn lots of fun and interesting facts about Ljubljana and Slovenian culture, and you'll know exactly where to go afterwards to get that awesome shot.
Without any further ado, here is my list of the most instagrammable spots in Ljubljana!
Let's start with the oldest landmark of Ljubljana, the castle on the hill, or 'grad' as it is called in Slovenian. Once a medieval fortress, now home to several exhibitions and popular museums, such as the Puppet museum.
From the castle hill, you'll see a 360 view over Ljubljana and all the following sights. The best part about it? Access to the hill and the castle square is free!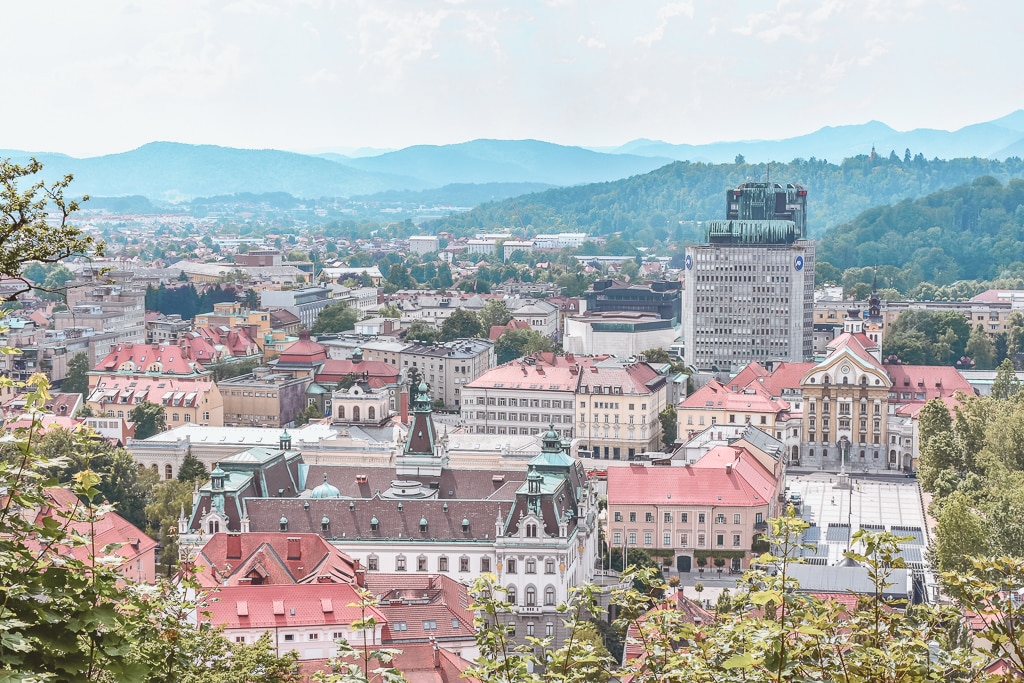 This square was named after the poet France Prešeren, who wrote the Slovenian national anthem about toasting to all good things in life. If you love pastel buildings and Art Noveau, then Prešeren square won't disappoint you.
The most instagrammable building here is the Franciscan Church of the Annunciation, also known as pink church. Little fun fact: the church was supposed to be red - which is the color of the Franciscans - but the rain washed the paint away to pink. They actually liked it more that way and kept it pink! Well, you'll definitely won't hear me complain about that decision haha.
As for mister Prešeren himself, he also got his own tribute in the form of a statue. His statue is looking to another statue from across the street. The other statue represents his muse, a 16-year old girl that he was in love with and who was called Juliet (seriously, dude?!). His unanswered love for her was the inspiration behind many of his poems.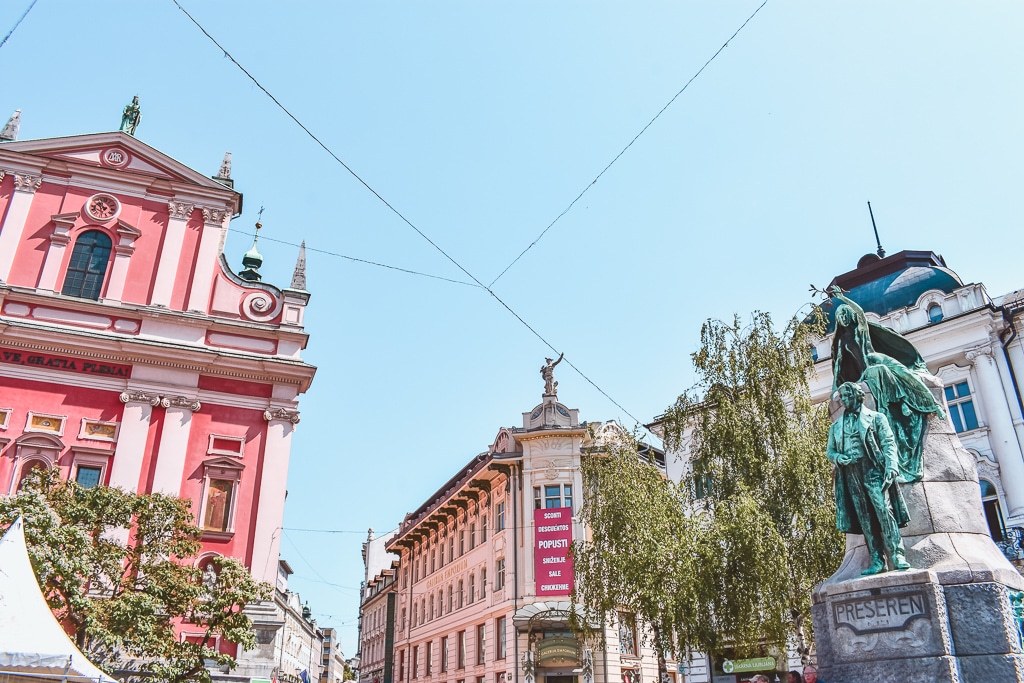 Triple Bridge (Tromostovje)
If you say Plečnik, you say Triple Bridge. You see, bridges are serious business in Ljubljana. It is not just about connecting two sides of town, it's also a place where people hang out and where they used to trade. Thus, Ljubljanians like their bridges wide.
The Triple Bridge was created as a replacement of an high-maintenance wooden bridge, and Plečnik (stubborn as he was) decided that just one bridge would not be wide enough to fit the job. So, he just created two extra side way bridges for pedestrians. It's functional, it's pretty and our cameras love it.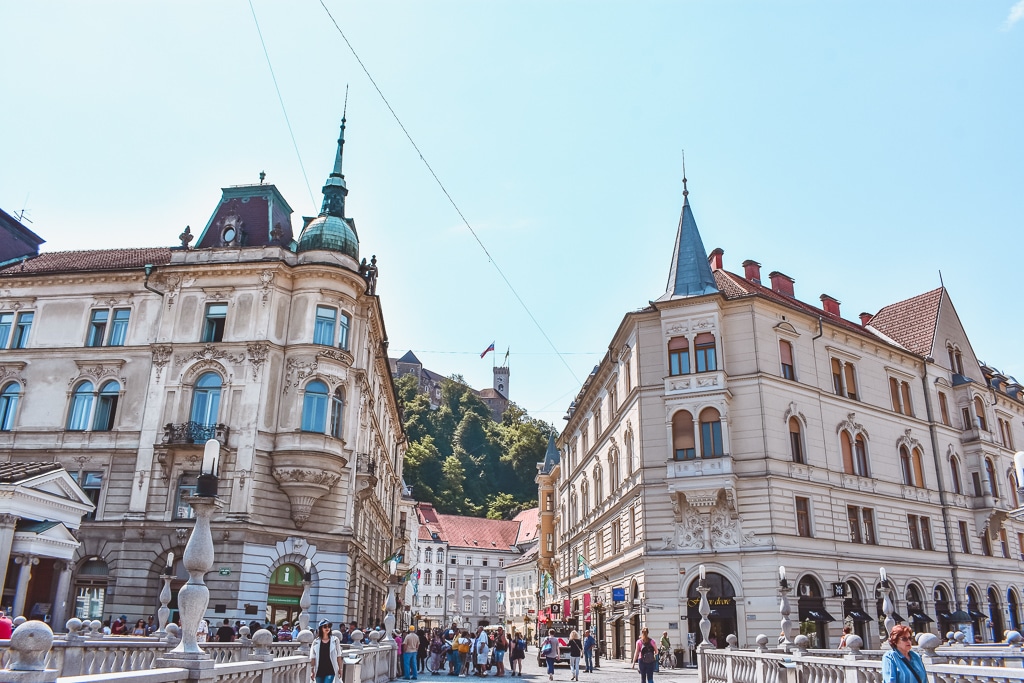 Butcher Bridge (Mesarski Bridge)
Aah how sweet, a love-lock bridge. The irony is that this bridge is called Butcher Bridge, there goes the romance! Shout out to the person who wrote 'go vegan' though, I like your sense of humor.
Anyway, this bridge is connected to the Central Market Hall. That explains why it used to be a trade spot for meat. Plečnik turned this into a nice, modern glass bridge and Butcher Bridge it is decorated with some (pretty weird) statues. These were supposed to be temporary, but the owner never paid for them and the statues became part of the bridge.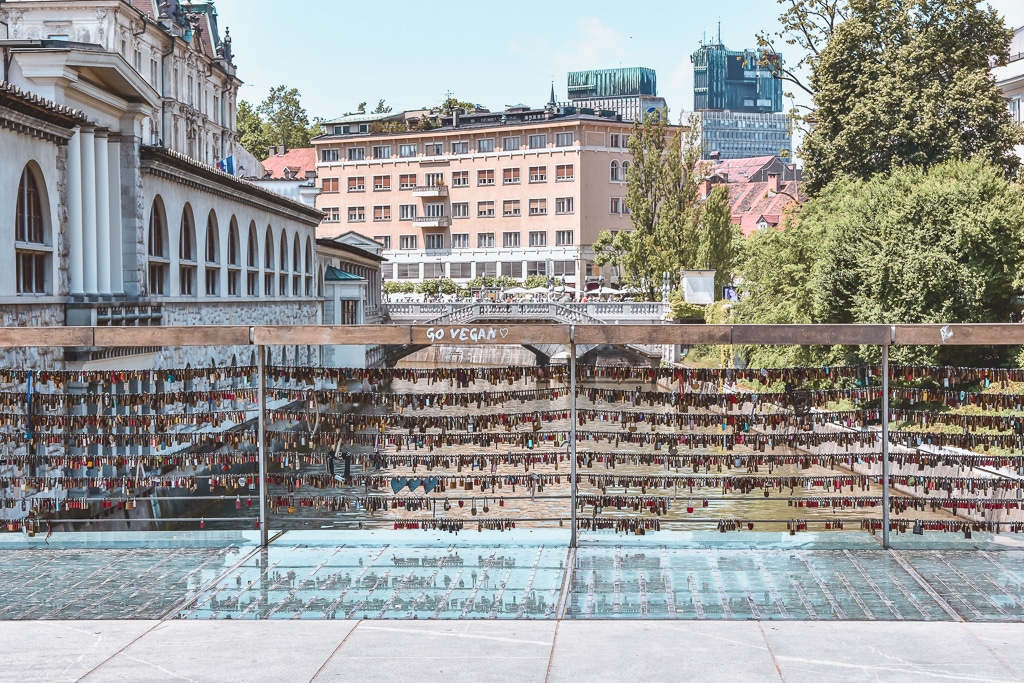 Bringing us to the next photo worthy spot, the Central Market Hall itself. At first I thought this was an upscale restaurant, judging by its classy Roman look. Not that my guess was too far fetched, because here you can combine photography with Slovenian food specialties. Does it get any better than that?!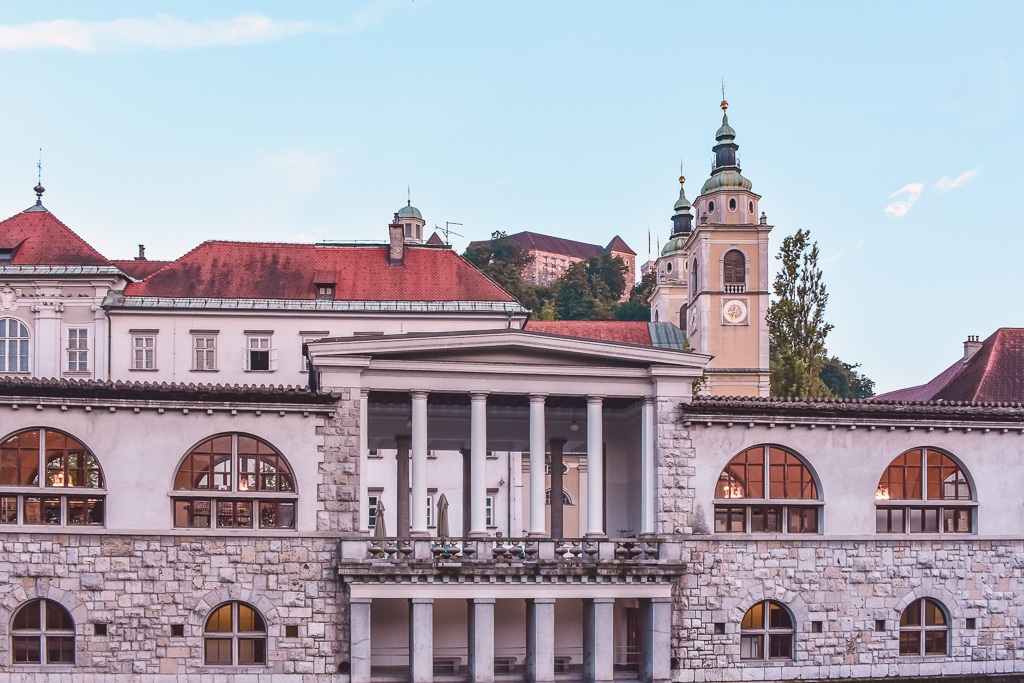 The Dragon Bridge is iconic for two reasons: not only was it the first Art Nouveau creation in Ljubljana, it also represents the symbol of the city. As the legend goes, the Greek mythological hero Jason stole a golden fleece from King Aetes and fled to the Ljubljanica river with it.
But it turned out that Jason and his men (called Argonauts) were not alone.. the marshes around the river were the home of a giant dragon! Of course, strong and brave as he was, Jason fought and killed the dragon.
After this victory, Jason continued his journey towards the Adriatic Sea, however some of his Argonauts decided to stay and started a village called Emona. As the centuries went by, Emona evolved into our beloved Ljubljana, while never forgetting its legendary origins.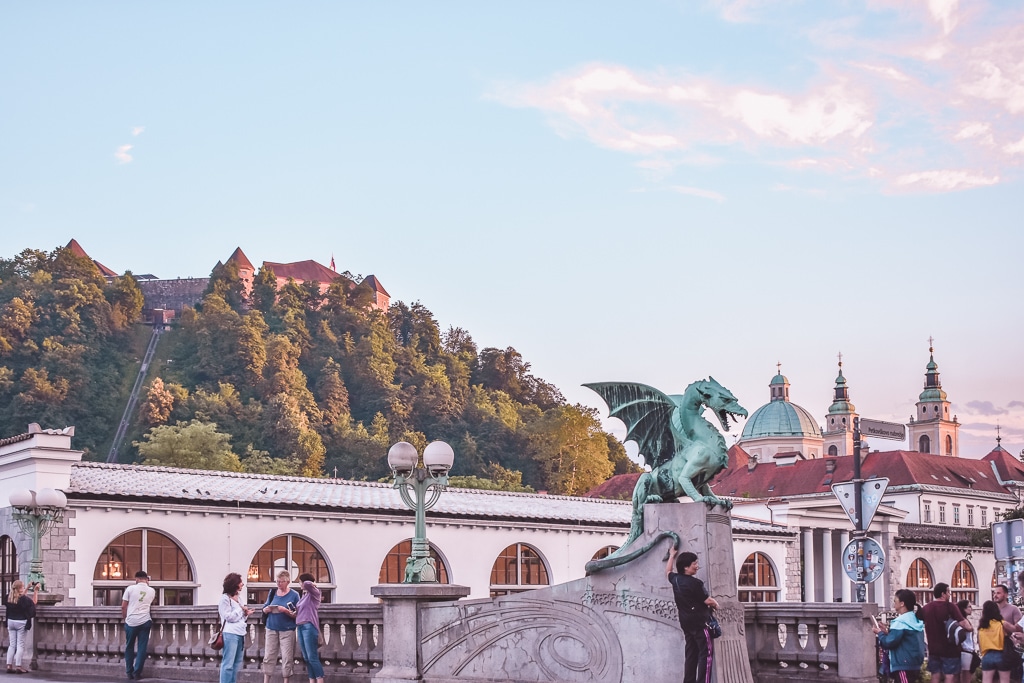 Old Town Square (Mestni Trg)
If you're anything like me, then it will be a delight for you to stroll along the pastel-hued, baroque facades. Not only that, at Old Town Square you also spot three of Ljubljana's landmarks: the Town Hall, the Fountain of Three Carniolan Rivers and the St. Nicholas' Cathedrals. The photo ops are endless!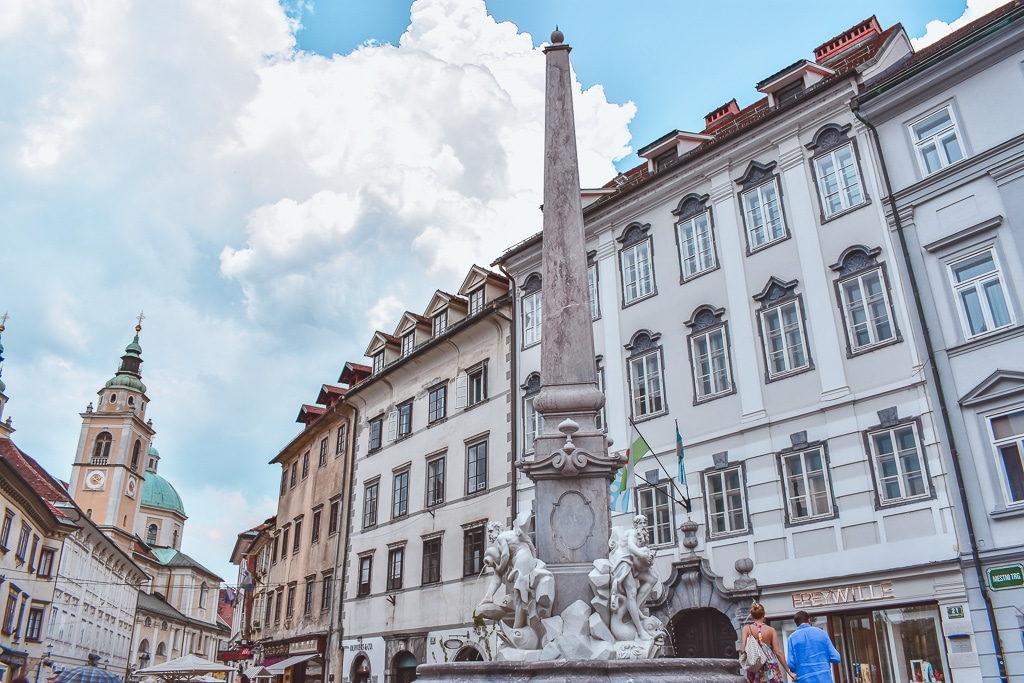 Normally I wouldn't think of a university as a photo worthy spot, but in Ljubljana, even the university looks cute. I honestly thought this was a castle at first!
By the way, did you know that education is free in Slovenia? No wonder that Ljubljana has a large student population and that it attracts lots of international students as well. Lucky bastards, imagine calling this your student city! A fun and gorgeous city with a great location in Europe, and all of that for free.*cries about her student debt while missing her own study abroad adventures*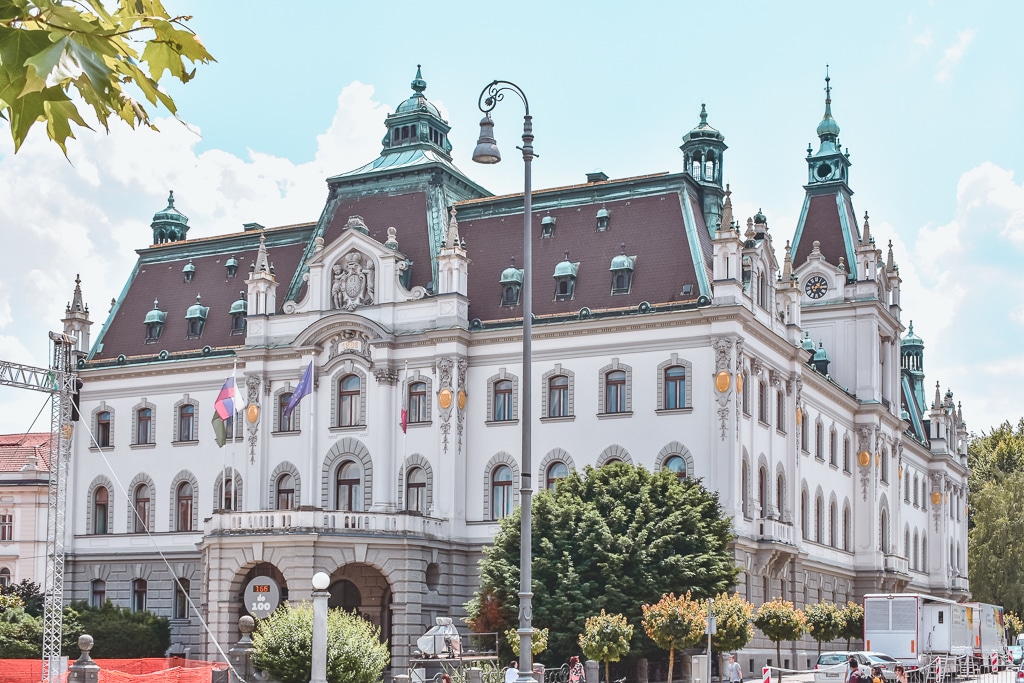 While most people will drool over the Cobblers Bridge (another iconic Plečnik creation), my advice is to head over to the next bridge if you really want to do it for the 'gram.
Why? Well, Ribja brv looks simple and has no interesting back story (as far as I know). However, its location smack in between Triple Bridge and Cobblers Bridge makes it perfect for photos. From Ribja brv, you can capture many of Ljubljana's landmarks in one single image.
Plus, the stairs leading to Ribja brv also offer a great view over the Ljubljana castle. That's a win-win!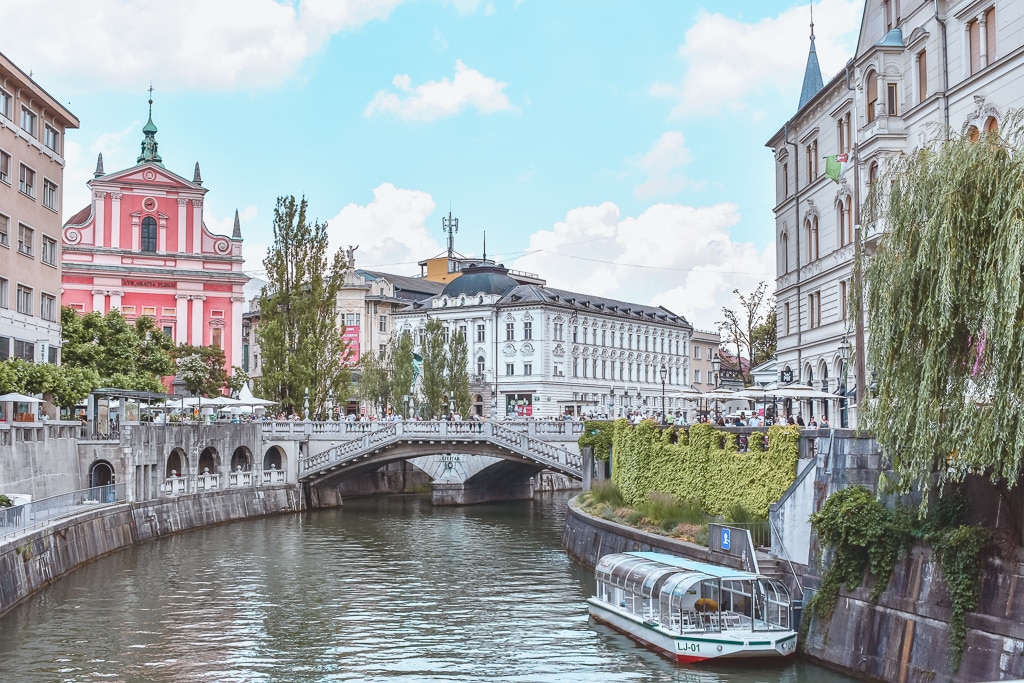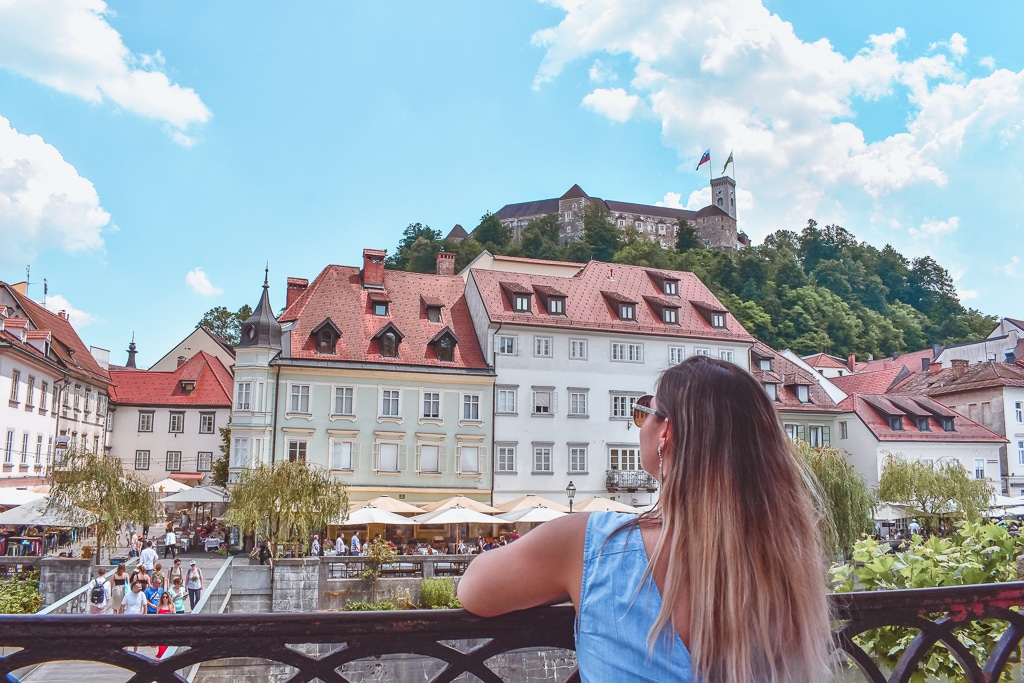 Once the tallest skyscraper of Europe, Nebotičnik was built in 1933 and was highly innovative for its time. Even though it's not a skyscraper anymore by today's standards, Nebotičnik is still an eye-catching building with pretty features inside and out. It definitely stands out in the Ljubljana skyline, as can be seen from the castle hill.
The other way around, the rooftop bar on the last floor of Nebotičnik offers some incredible views of the castle watching over Ljubljana. This seems to be especially beautiful during sunset, however, I only had the chance to visit Nebotičnik at night. But hey, who doesn't like to see a city all lit up while sipping on a cocktail?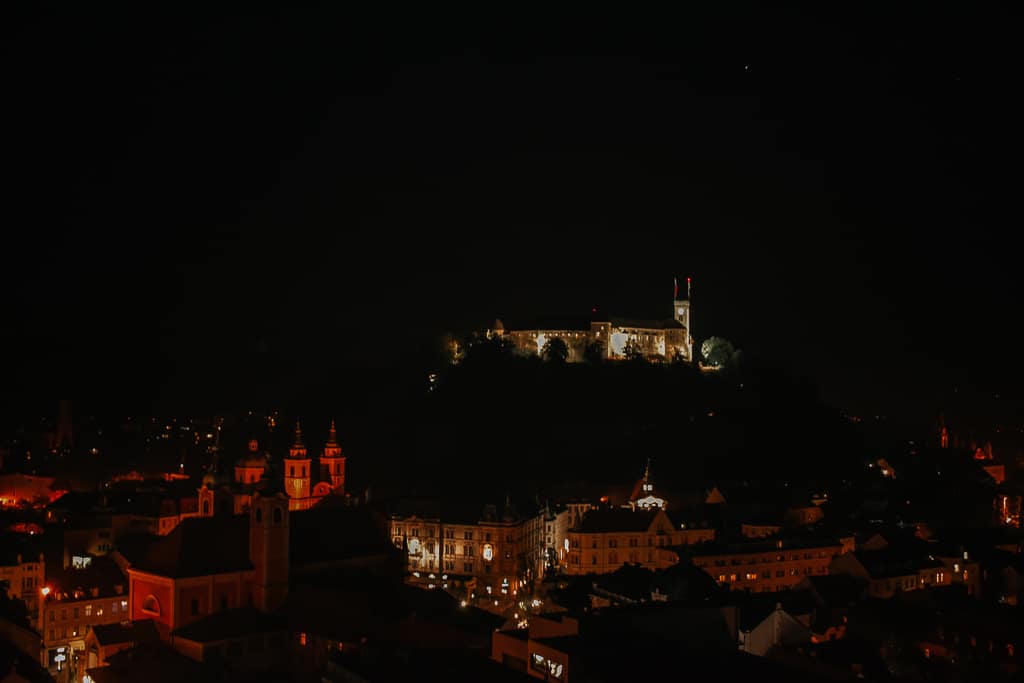 These were all the photo worthy spots that I found in Ljubljana. Want to discover more of Slovenia? Then this guide will help you plan your ultimate road trip!
Hopefully these photos and stories inspired you to add Ljubljana to your travel list 🙂 If you like this post, then follow me on Instagram and Facebook to keep up with my travels in Slovenia and many other countries!
Ayo! AR x
*FYI: this post contains affiliate links. If you purchase something through them, I receive a small commission at no extra cost to you. Thank you so much for your support!