Charter your own private yacht in Curaçao with Miramar Boat Trips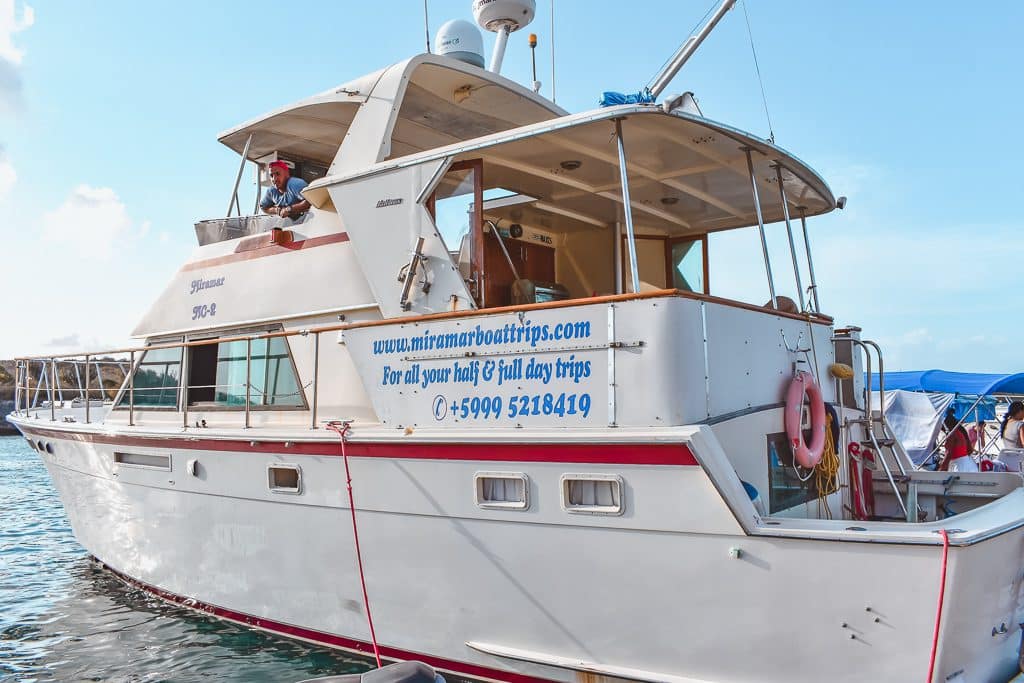 What is more relaxing than being on a tropical island? Relaxing on a boat, in that tropical island of course! During our last visit to Curaçao, captains Tamara and Irvin from Miramar Boat Trips invited us on board their yacht. We could not say no to that!
My experience with Miramar Boat Trips
Miramar is docked at the Spanish Water, where we were welcomed by the crew with a smile and a drink. After that, we started cruising towards the Santa Barbara Beach Resort. During the cruise, we soaked up the gorgeous views of the Spanish Water, surrounded by a lush green landscape and the Table Mountain in the distance.
When we arrived at Santa Barbara, the Miramar docked at the pier and it was time for some fun in the sun. I spent my time mostly sunbathing on the front deck, but I also went to the pier a few times to enjoy the pristine blue waters of the beach. I had been to Santa Barbara Beach before, it's one of my favorite beaches on Curaçao, but this was the first time with a boat so it was really funny to see the pier and beach from the other side!
After a few hours of sunbathing, swimming and enjoying each others company, it was time for a delicious barbecue in the stern of the yacht. A few more drinks, the last jumps in the water, and it was time to cruise back into the sunset. Of all my days in Curaçao, this was definitely the most relaxing one. Thank you so much Tamara and Irvin for having us!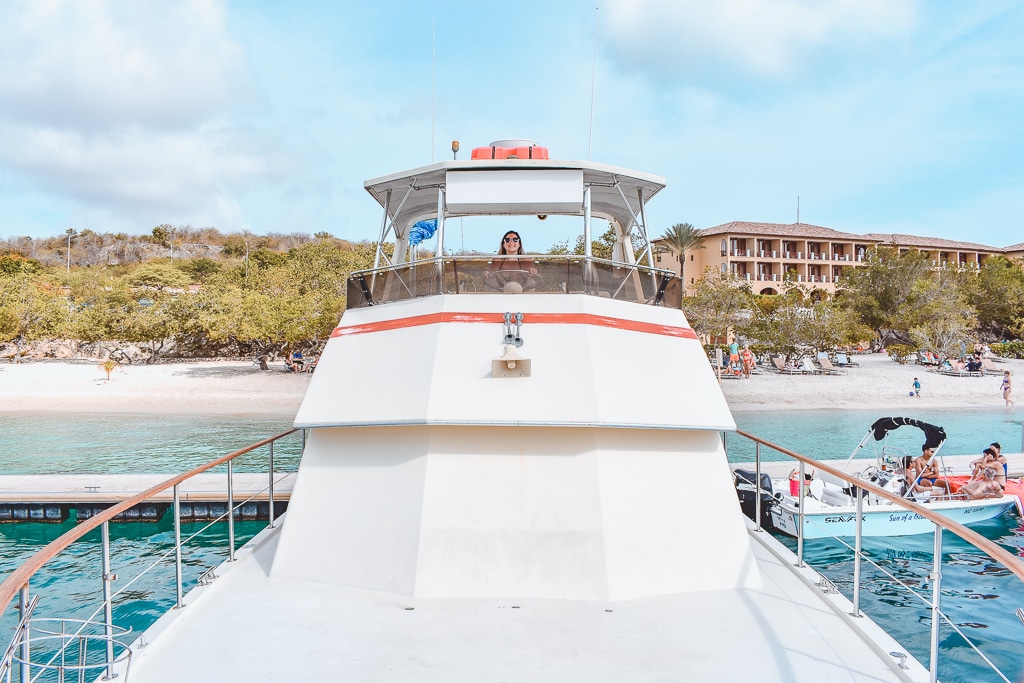 Why choose Miramar Boat Trips?
What makes Miramar Boat Trips unique is their tailor made service for private groups. You charter the yacht with your own group of people, and you decide the schedule for the day. You have all the flexibility to go for a full or half day trip, and you make your own depart and return times.
Not only do I recommend Miramar Boat Trips for their flexibility and privacy, the service on board is really great. Tamara and Irvin will cater to all your needs to give you an amazing day. If you wish, you can even request for extras such as a professional massage on board!
What tours does Miramar Boat Trips offer?
You have all the freedom to create your own itinerary with Miramar Boat Trips, but they also offer a few package tours.
Full day trips include bounty island Klein Curaçao, Sightseeing and Snorkeling on the Spanish Water and Fuikbay, and Westpunt & Blue Room. You can also choose the Sightseeing and Snorkling tour as a half day trip, or go on shorter trips such as Sunset Cruise and Spanish Water Charter Special.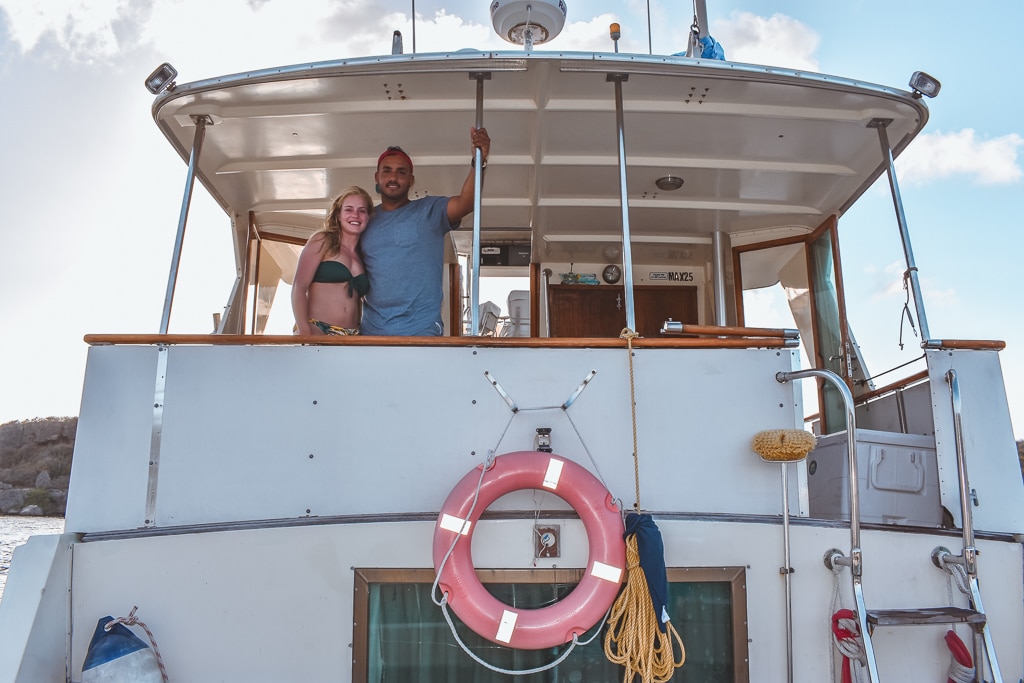 The yacht of Miramar Boat Trips is completely designed for your comfort. It includes an air-conditioned cabin with soft sofas and pillows, six sleeping accommodations with two showers and two toilets. The stern and the helm of the yacht also have comfortable cushions for you to sit down, relax, and enjoy the view.
Prices to charter the boat start at $150 per hour. After four hours, you get a discount of $25 per hour. As for the package tours, all prices are listed on the website of Miramar Boat Trips.
How to contact Miramar Boat Trips for bookings?
You can call Miramar Boat Trips on the phone number +5999 683 5626, or send an e-mail to info@miramarboattrips.com
Check our their website www.miramarboattrips.com for all the details, and follow them on Facebook and Instagram.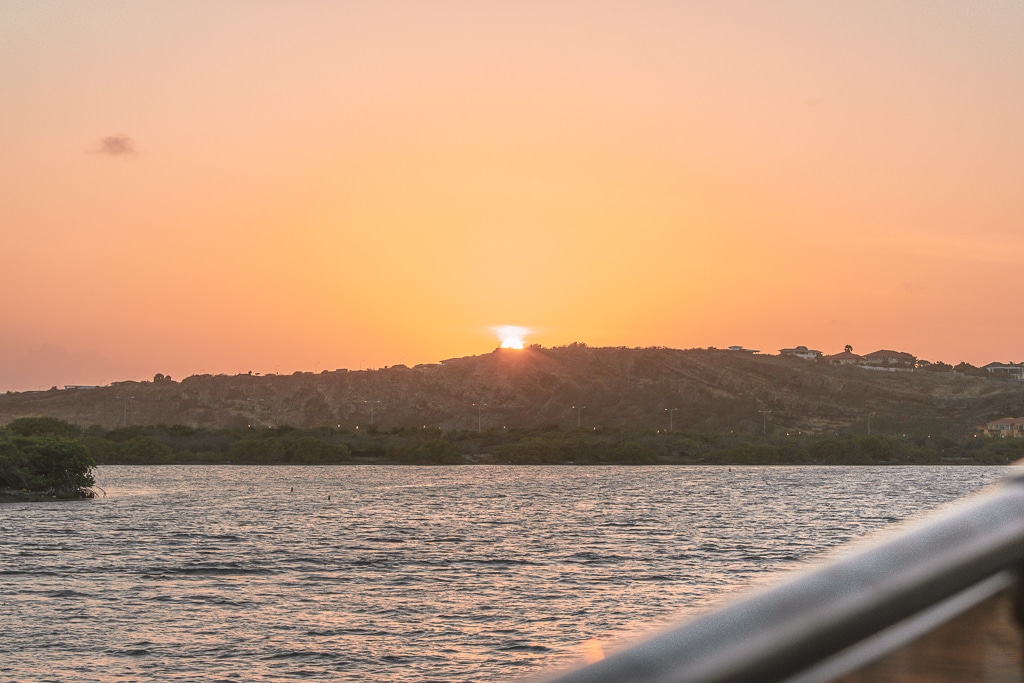 Which tour would you choose?
Ayo! AR x
*I was invited by Miramar Boat Trips to join on their trip. They did however not request this post, this is all my own opinion and a sign of appreciation for their services.