Relax at the majestic Kravica waterfalls in Bosnia & Herzegovina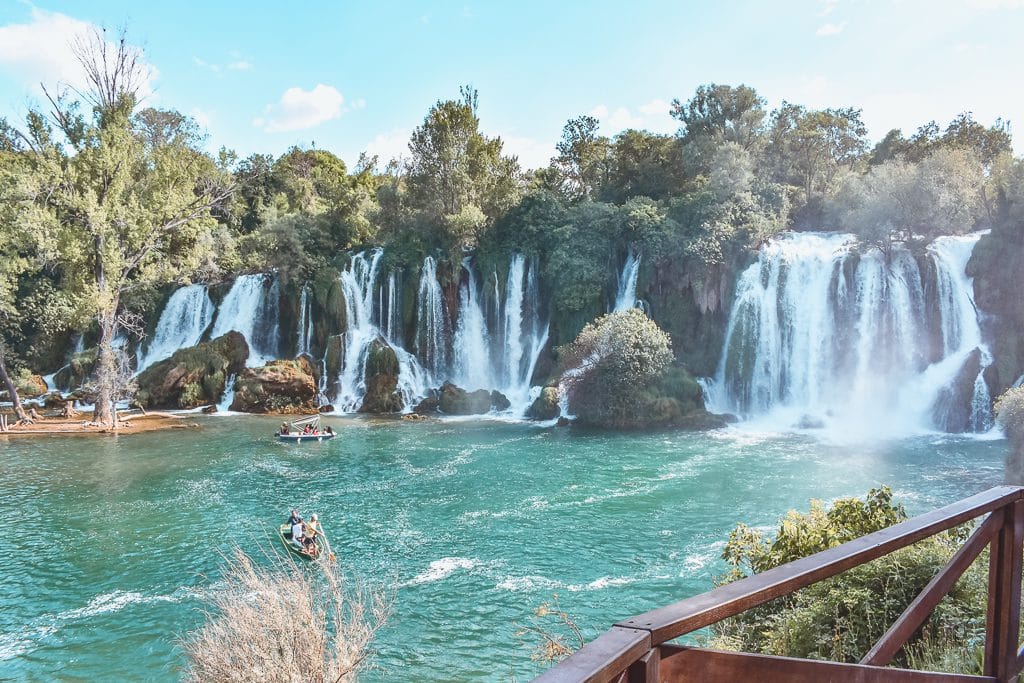 When I asked for suggestions for my Croatia road trip, everyone kept telling me that I had to visit the waterfalls of Krka, Plitvice or both. Admittedly, they look stunning on photos. I had never seen large waterfalls in my life before, but I also heard how these two places get packed with tourists in the summer. Being the beach bunny that I am, I'd rather spend more time at the coast than in a crowded national park, so I decided to skip waterfalls altogether. That was, until I heard of the Kravica waterfalls in Bosnia.
Wait, Bosnia has waterfalls?! Stuck between the Croatian border and the city of Mostar, which is part of my schedule? With way less crowds? Okay, I HAVE TO SEE THIS PLACE. After spending one night in Mostar and exploring the city in the morning with Sheva Walking Tours (a must if you want to learn everything about Mostar!), we continued our road trip towards Kravica (sometimes referred to as Kravice). In one hour, the GPS smoothly navigated us towards my first ever visit to a waterfall.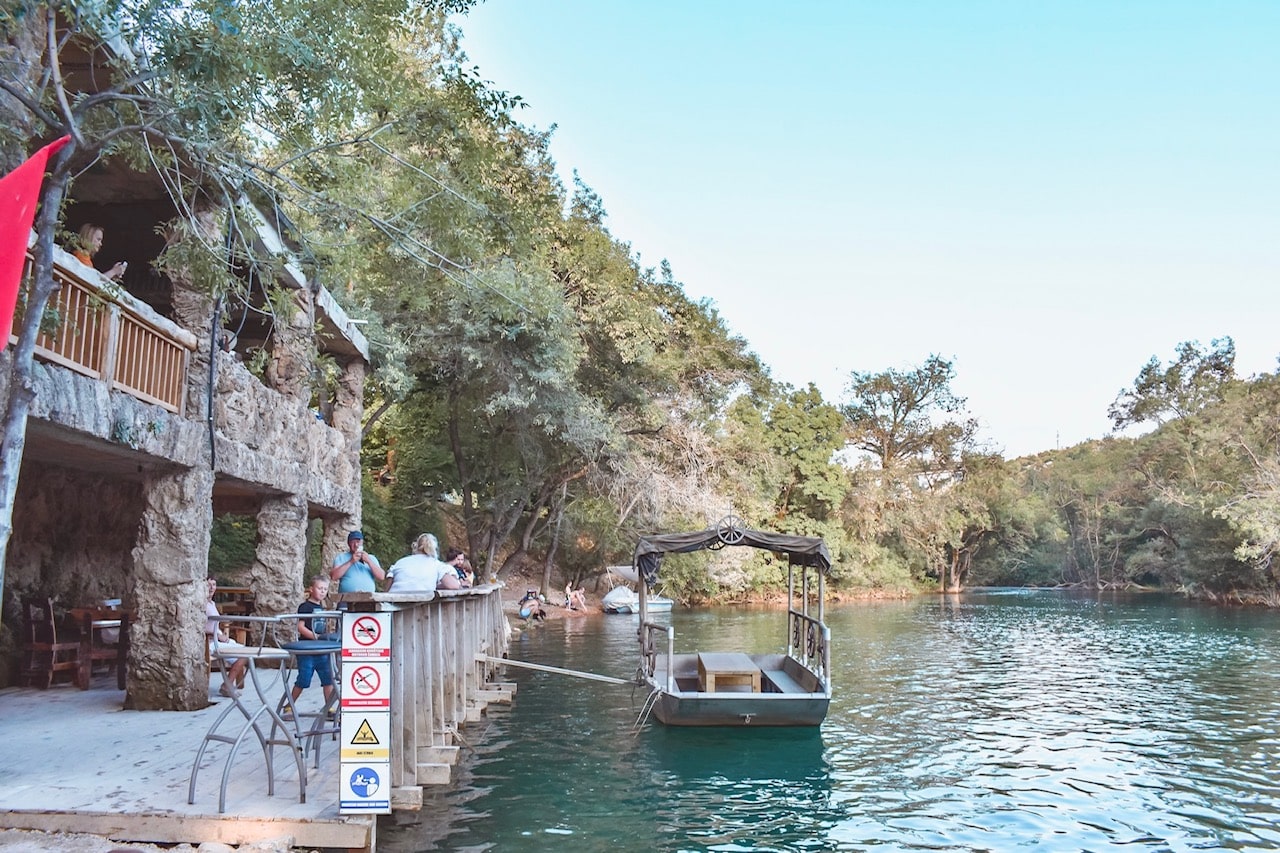 You know you made it to Kravica when you see a parking area on your left side, and some stalls selling local products on your right side. We parked the car quickly and walked straight to the stalls to buy a magnet (yes, I am a proud magnet collector, mkay). We got a first glimpse of the waterfalls here, and eager to see more of it, we continued our walk down a series of stairs. After fifteen minutes or so, we made it to the water and finally saw the Kravica waterfalls in all their glory.
Kravica is seriously one of the most majestic places I've ever been to. The water has a rich shade of turquoise, making the sky look even bluer. The sunshine over the waterfall creates a mysterious mist, almost like a fata morgana. The sound of the water falling is very soothing, releasing thousands of tiny waterdrops all over your skin. It is a chilly, but very refreshing feeling.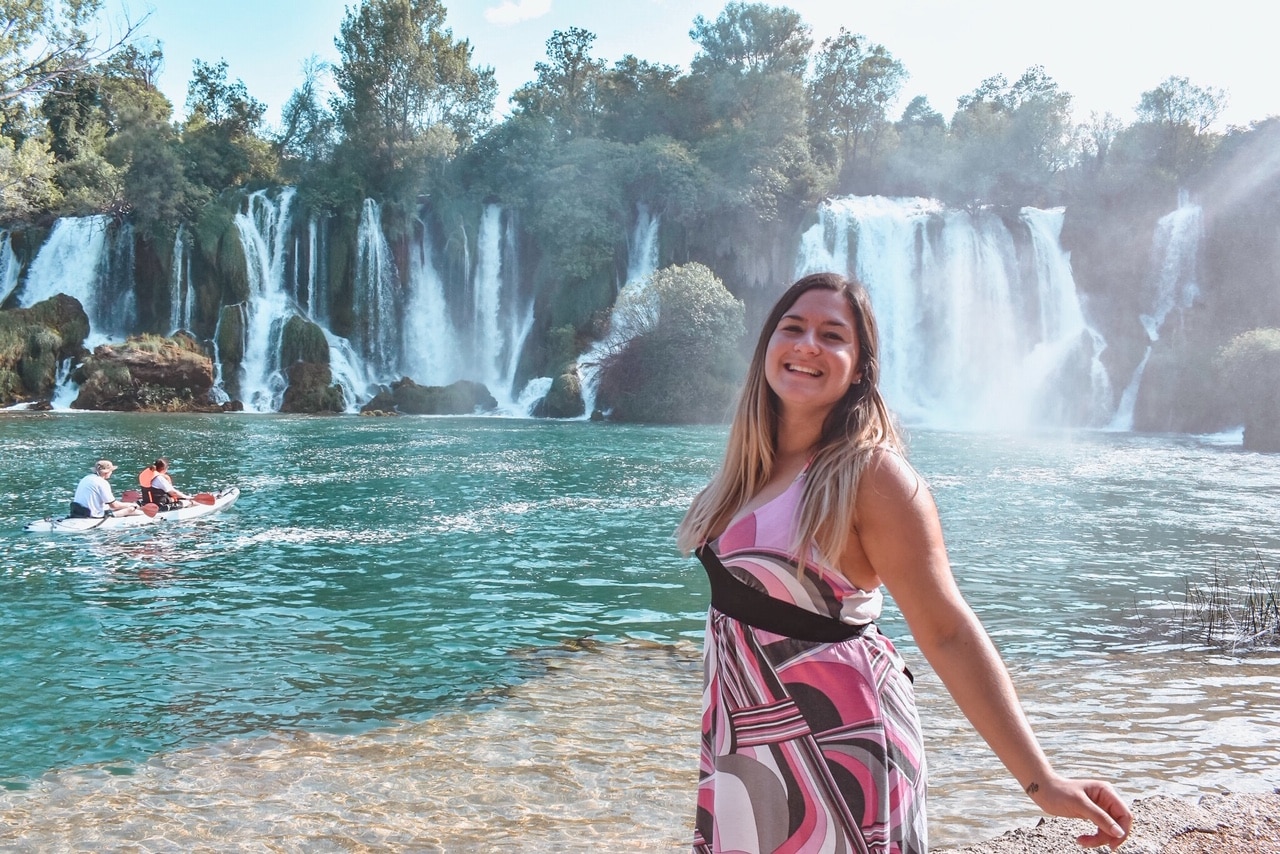 Whether you like to hike, relax in the sun or be active in the water, Kravica has it all. It features a 'beach' with two restaurants where you can indulge in pizza (did I already mention that the food in Bosnia is deliciously cheap?) and enjoy the views with a cold drink. Want to bring your own food instead? Feel free to barbecue at Kravica!
As for water activities, you can join a boat tour to Mala Kravica, a smaller nearby waterfall. But in my opinion, the most fun activity is to rent a kayak/boat and see the waterfalls from up close.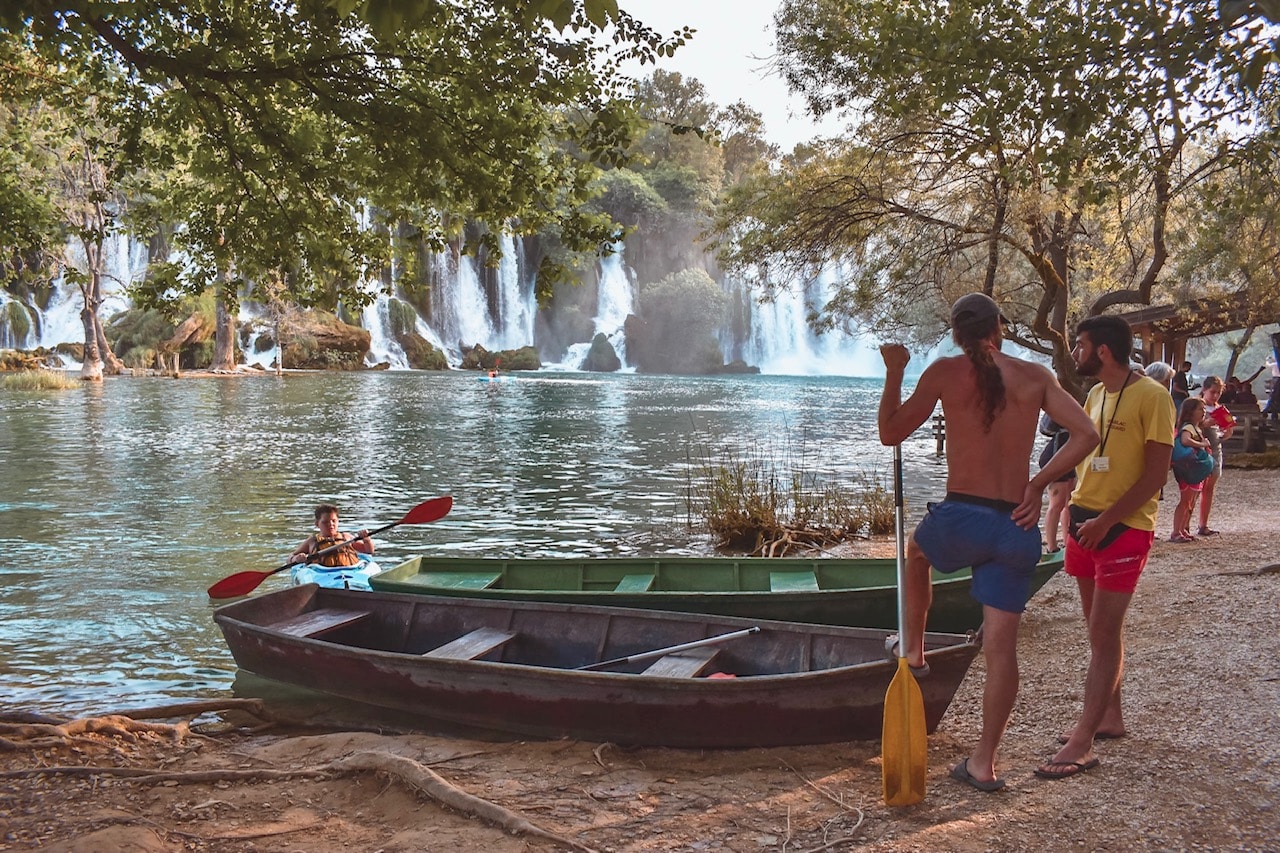 How much does it cost to visit Kravica?
For adults, entrance costs 10 KM between June and September, and 8 KM between October and May. For children aged 7-18 it's half the price, and completely free until the age of 7.
Parking is 2KM per hour, with the possibility to buy a day pass for 6 KM.
Prices for kayaking are in euros per person (€4 for 30 minutes, €8 for 60 minutes, €11 for 90 minutes and €13 for 120 minutes).
What is the best time to visit Kravica?
I went in June and that's the perfect month if you ask me. It is summer and warm enough for a swim, but without the blazing heat and the crowds of July and August. Probably those two months are better for swimming because the water is rather chilly all year long, but keep in mind that the beach will be quite full in high season.
You don't really care for swimming and just want to visit Kravica for the incredible beauty of nature? Then you might consider visiting in spring or fall.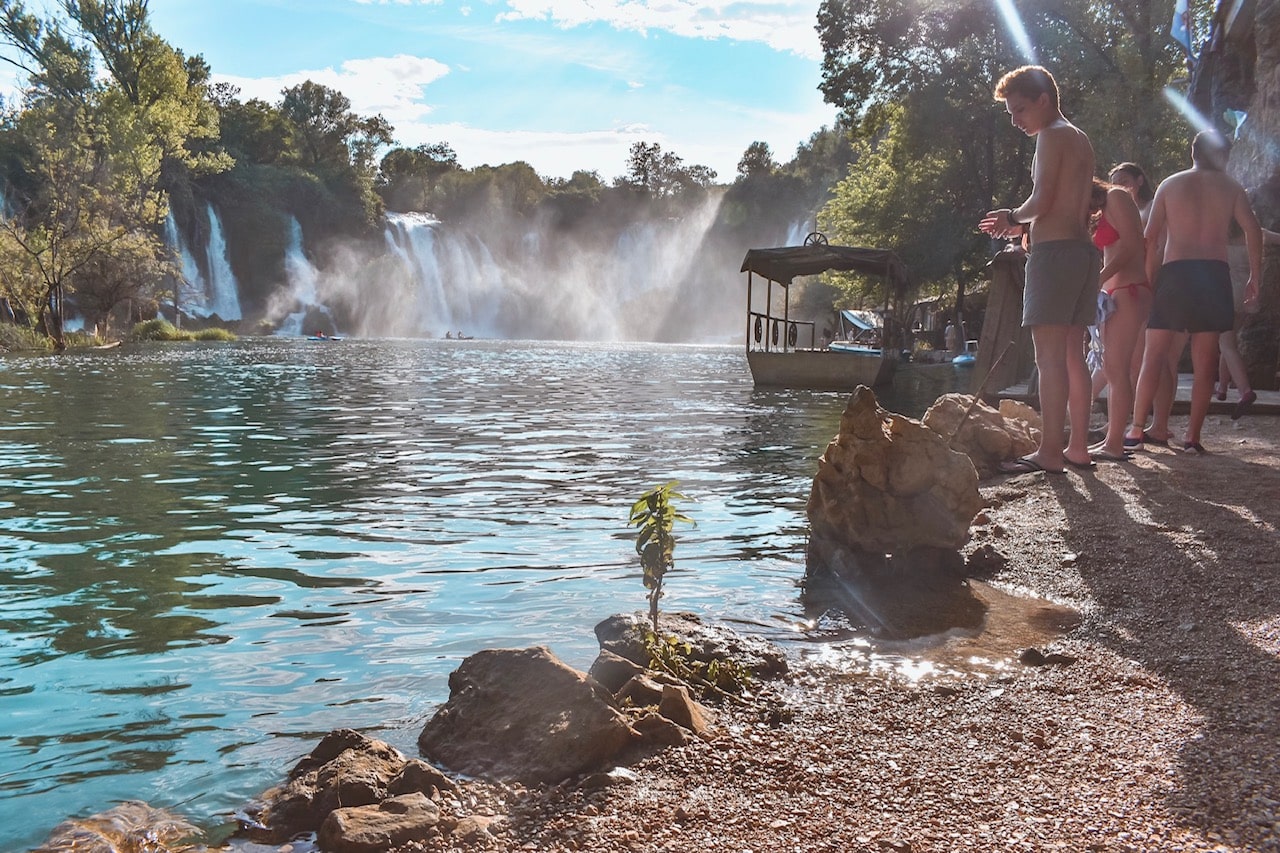 Public transportation is not really an option to visit Kravica, so you'll have to get there by car or book a tour. Personally, I always try to travel by car or rent one because it gives you much more time freedom. This is the address to type in your GPS:
Studenci bb, Studenci Ljubuški 88320, Bosnia and Herzegovina
However, if you can't or don't want to drive a car in Bosnia, then these tours will help you out:
Kravica is also a great option for a daytrip from Croatia, since it's quite close to the border.
If you have more questions about the Kravica waterfalls, then please leave a comment below or reach out to me on Instagram and Facebook 🙂
Ayo! AR x
*FYI: this post contains affiliate links. If you purchase something through them, I receive a small commission at no extra cost to you. Thank you so much for your support!